New buildings on station car park
Update 13 December 2017: We have submitted our feedback on Brookgate's proposals (below). Feedback must be submitted by Wednesday 13 December.
Outline
Brookgate are preparing to submit a new planning application in early 2018 for an 'Aparthotel' above a multi-storey car park plus a hostel-style hotel plus offices for accommodation for rail staff.
Block B2: multi-storey car park (210 spaces over three split-level floors) plus four floors of apartment hotel suites, alongside the Ibis hotel and cycle park (B1).
Block F2: budget hotel/hostel rooms with 400 beds, plus railway staff offices and accommodation, between 4½ and 5½ six storeys high, backing onto Ravensworth Gardens.
We are deeply concerned that Brookgate has already pushed the envelope on what they have built to date, adding floors and mass to create what most people are describing as ugly, characterless blocks.
We will need to call a Development Control Forum to gain an opportunity to present our case to the planning committee before they decide on the application, which is likely to be submitted in early January 2018. Please get in touch if you can help organise this (collecting a petition and making a presentation).
Contacts
If you have questions about the plans, please contact Laura Fisher at Bidwells (01223 559546). If you have any questions about the comments on the plans please contact Sarah Dyer (01223 457153), the lead planning officer for this development. There is a website with contact details for all the buildings on the CB1 site: CB1 Community.
Our feedback to Brookgate
References in brackets are to paragraphs of the officer's report on the original outline planning application.
Please use the comment box at the bottom of the page to submit additional concerns.
Height and mass of buildings
 B2 and F2 are too tall and massive, far beyond what was proposed at outline planning.
The original multi-storey car park building (B1) was meant to have a maximum height of 18m (8.277), but what is proposed is significantly higher (notice of exact heights still awaited).
The outline planning consent refers to F2 being up to three storeys high, 15m at the southern end and 9m adjacent to Ravensworth Gardens (8.271 & 8.277). The officer was hesitant to support an application for a building even as tall as three storeys (8.466), yet what is proposed is effectively 4½ to 5½ storeys (notice of exact heights still awaited).
B2 extends far closer to Carter Bridge and Devonshire Mews than was agreed in the outline consent for block B1.
F2 will overshadow Ravensworth Gardens to an unacceptable extent.
The west-facing windows will overlook at least one of the gardens and rear rooms of the facing terrace on Ravensworth Gardens.
F2 and B2 will loom large over the modestly-sized houses on the corner of Devonshire Road.
The buildings' design lacks the character and craft appropriate to this gateway to the station from a Conservation Area.
Transport
The junction on the car park road at the Devonshire Rd cycle/footway and car park entrance is highly conflicted. Priority is implied for motor vehicles accessing the multi-storey and surface car parks. That means cyclists approaching from Devonshire Rd must wait for a gap in the vehicle traffic or hope someone lets them through. Consideration should be given to giving the cycleway priority.
Greater segregation between motor vehicles and people cycling is desirable for the safety of the many people who currently travel to and from the station, and between Station Rd/Place and Devonshire Rd via the station car park. The opening of the Chisholm Trail will accelerate growth in cycle traffic along this route.
Since the main pedestrian desire line will now be the western side of the car park access road, there need to be greatly improved crossings at the mini roundabout at the bottom of Great Northern Rd, both to the south side of Great Northern Rd and to the east side of the car park access road. These should be zebra crossings, giving pedestrians legal priority.
Where will over-ranked taxis queue? (Up to 39 taxis have been counted in the rank and queuing through the car park)?
Where will rail-replacement buses queue?
Accessing the car park from Devonshire Road during construction is completely unacceptable. The corner of Devonshire Road is already an unsafe crossing point, with poor sight lines. Having vehicles entering and leaving the car park will create additional conflicts. Devonshire Road is not wide enough for two cars to pass, and therefore will not be able to take the extra traffic flow, leading to gridlock.
Cycle parking
Greater Anglia has a franchise commitment to provide an additional 1,000 cycle parking spaces at the station by the end of 2020. Where will these go?
If the intention is to convert some of the multi-storey car parking spaces to cycle parking, this will need to happen very shortly after the car park opens (unlikely to be before 2020). Where will the cycle entrance be located?
The new cycle parking spaces should be contained in an extension of the existing cycle parking building (which the open-sided design allows), using the same entrance (but with a cleared walkway between the top of the first ramp and the second). If there are two separate buildings with separate entrances, how long will it take someone to find a space if the first building they try is full?
Even 3,850 cycle parking spaces (existing 2,850 plus 1,000 extra) will not suffice for very many years. Utrecht (population approximately double Cambridge's) now has 12,500 cycle parking spaces at its railway station. It is imperative that the station area is future-proofed with space allocated in anticipation of need, especially for 'off gauge' cycles (trikes, cargo bikes, hand cycles, trailers, etc, which are all becoming more commonplace) and bikes requiring greater security (e.g. e-bikes).
Not planning for additional cycle parking at this stage will not only waste money, but will lead to severely compromised provision for cyclists in future.
Car parking
Why preserve 450 car parking spaces at enormous cost when the strategies of the City Council, County Council, Greater Cambridge Partnership and Combined Authority all include enabling and encouraging modal shift away from driving and parking within the city? With Cambridge North now open, Cambridge South being planned, and Trumpington P&R being just 9 minutes away by bus, what need is there to keep anywhere near as many as 450 car parking spaces? If point 16 above is correct and parking spaces may be converted to cycle parking in 2020, why not now?
Landscaping
Alongside the access path from Devonshire Road there used to be a row of mature hornbeams. These were all removed to widen the path. The plans show just two trees and low-level planting here. Reinstatement of a screen of trees and other plants is needed to reduce the visual impact of the car park, bridge and buildings beyond.
Public green space
No new public green space is being provided, even though Petersfield ward is severely deficient in this.
Alternative building uses
Once it is accepted that a multi-storey car park is not required, B2 could have an attractive active frontage along the whole of two sides. Retail and other businesses, including for instance Regus-type meeting rooms, would be far more welcome to local residents and most station users than a car park.
Although Greater Anglia based their franchise bid on parking revenues from 450 spaces, that revenue could be replaced by office or retail rental income.
Previous proposals now superseded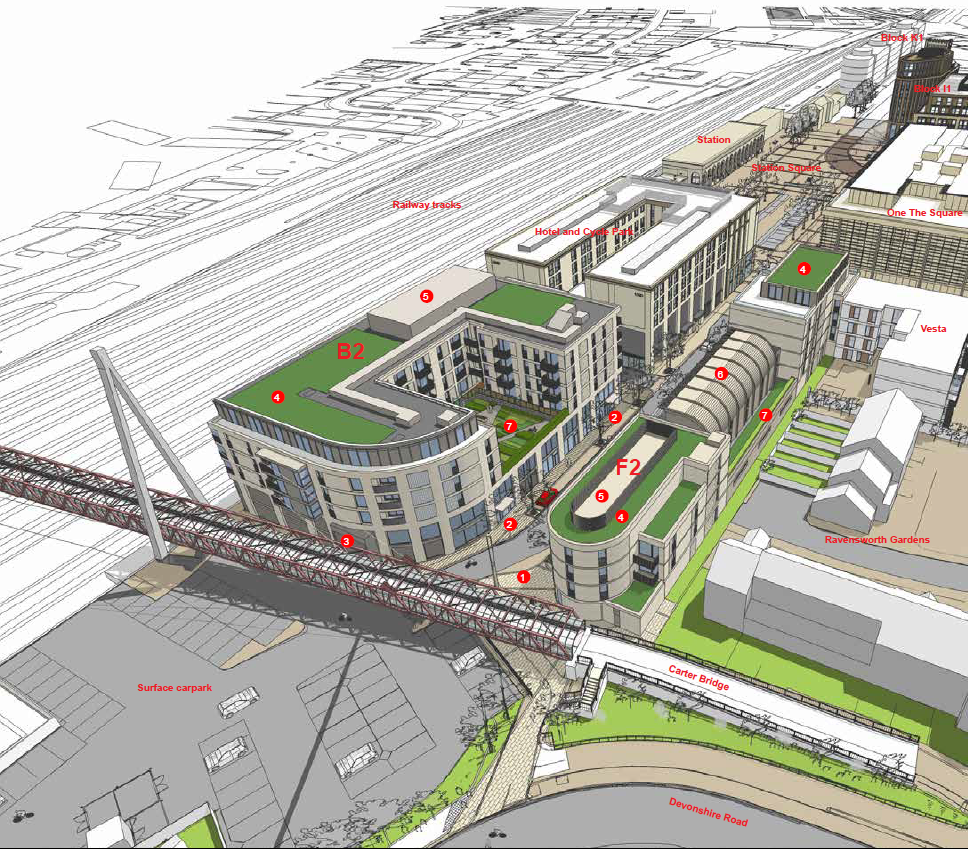 Dimensions of previous plan
We are awaiting dimensions of the revised plans.
The outline planning consent for what was originally planned for B1 & B2 was to be four storeys high. What has been built is, in effect, seven storeys high. B2 will be taller still.
Building heights
Outline consent
Proposed in previous plans

Block B2
18m max
19.3m + 1.6m plant area
Block F2
(station end)
15m max
19.3m
(inc 2.8m top floor set back)
Block F2
(middle section)
not specified
13.3m
(inc 2.8m top floor set back)
Block F2
(Ravensworth Gardens end)
 9m max
10.5m + 1.7m plant area
The distance between B2 and the Carter Bridge in the outline consent was considerably greater than now proposed.
The distance between the middle section of F2 and main building line of Ravensworth Gardens is 16m on upper floors and 12.3m at ground floor. The gable end of Ravensworth Gardens is 4.6m away from the northern section of F2.
The distance between B2 and F2 is 15.1m, which comprises 6m for the road, 4.8m pavement in front of F2, and 4.3m in front of B2.
By comparison the distance between the buildings on Great Northern Way at ground level is 16m and 13.3m on upper floors. The road width is 5.5m.
The Chisholm Trail cycle/walking route will pass between blocks B2 and F2, and across the station square (which is a 'shared surface').
Discussions are still ongoing about where over-ranked taxis and rail-replacement buses will queue. Currently they use the car park, but this will not be possible once Blocks B2 and F2 are built.
Brookgate proposed that, during construction of blocks B2 and F2, access to the car park (the 200 spaces north of Carter Bridge) will be from Devonshire Road.
Other notes
Brookgate have indicated that the two buildings originally planned for the north side of the cycle/footbridge (G1 and G2) will not be built if B2 and F2 go ahead.
The Planning Committee gave consent on 3 June 2015 for a new cycle link path to be built through the 'green' space alongside the Carter Bridge ramp. This entailed the loss of all but two of the pine trees, which have been replaced by semi-mature trees (about which we were not consulted). Thanks to Cllr Richard Robertson for pursuing this and speaking on our behalf at the planning meeting, though ultimately it was to no avail: council officers believed this was the only viable option, despite obvious flaws and local opposition. Planning application: 13/1041/S73.